EXTRA! EXTRA! LOOK WHO'S TALKING ABOUT ED…
Feb. 1 saw the state's largest paper, THE OREGONIAN, list The Ed Forman Show as the #2 event in PDX for the first week of February! Check out the web link here: http://www.oregonlive.com/movies/index.ssf/2013/02/the_hot_list_reading_frenzy_va_1.html
The previous week Portland State University's newspaper THE VANGUARD wrote an in-depth feature about alumni and Ed Forman Show creator Aaron Ross. Link and article below…
PSU alumnus shoots for stars from local bars
Jeoffry Ray | Jan. 21, 2013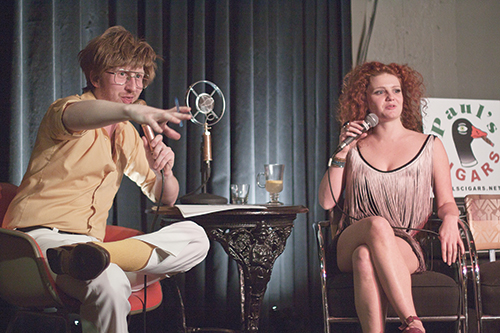 PORTLAND'S KING OF LATE NIGHT Ed Forman, aka PSU alumnus Aaron Ross, interviews Nashville recording artist Cooper on Thursday, Jan. 17. Ross describes Forman as a "polyester-clad self-help guru" who's just trying to "get laid." Ross performs as Forman every Thursday, Friday and Saturday at Al's Den. Photo by Miles Sanguinetti.
Portland has its own late-night talk show, and some of the guests have described its host as a lecherous buffoon. Even Aaron Ross, the creator of The Ed Forman Show, had mostly scathing words to say about host Ed Forman, referring to him as a "polyester-clad self-help guru, who's really just out there to help other people so he can get laid.
"Forman has this take-no-prisoners, big attitude," Ross said. "He authored a book, I'll Make You Better, Because I'm Better than You." Ross should know—he's been Forman for years.
Ross' Ed Forman fades from existence the minute Ross steps off the stage each weekend at McMenamin's Crystal Hotel. Forman is a character Ross developed to deliver a lineup of sketch comedy, witty exchanges and in-depth interviews with media personalities, actors and politicians alike.
He hosts The Ed Forman Show every Thursday, Friday and Saturday in the hotel's lounge, called Al's Den, as part of an ongoing residency.
"We're a talk show, just like you see on TV," Ross said. "I like variety, so you get that on my show. We take an Ali G route, where you have this buffoon that leads this whole three-ring circus. The circus includes interviews, music and sketch comedy. We kinda throw it all into the mix."
Ross noted the similarities to shows he described as the "pantheon" of late night comedy: Carson, Letterman, Conan and Colbert. But he also pointed to important distinctions, particularly given that Ross hosts his show at a downtown bar.
"We don't really get the typical kiss-ass interview, where it's just promoting a product," he said. "It's about having a good time onstage. Because we don't have to pack interviews into seven or eight minutes, we get a lot of free reign to have a lot of fun."
Previous guests have run the gamut, and have included Daniel Baldwin, Tenacious D's Kyle Gass, several local mayors and Trail Blazers players, and local 94.7 radio personality Gustav, among others. The loose format allows for longer interviews: Ross has interviewed guests like Baldwin and former Trailblazer Jared Jeffries for 20 or 30 minutes.
"People can get comfortable, they don't feel rushed," Ross said. "They can have a drink or not have a drink, or have more than a drink, and kind of screw around and get on our level. They can just kind of let go."
Gustav, a recurring guest, reflected on his own visits: Currently, he puts the count at nine, and suspects there are more to come in the future.
"We usually spend time sharing stories and keeping up with pop culture," he said. "Aaron's a very witty guy, and fun to work with. I like to think I get invited back because we play well off each other."
Gustav, a radio personality on Portland's alternative rock station, explained that he was initially invited as an effort on Ross's part to reach out to personalities in town.
According to Gustav, the talk show provided an opportunity for him to connect with more people around the city and talk in depth about his efforts to support the local music scene: In addition to his seven-hour spot on 94.7, Gustav programs for 947 Too, an AM station dedicated solely to local and Northwest-area bands.
Ross, who grew up in Portland and studied at Portland State, drew a distinction between his brand of comedy and that produced by stand-up comedians. He pointed to a long-form improv class he took at Portland State, where, he explained, he found his passion for the style of improvisational comedy that would later define his show.
"You would create a sitcom on the spot," he said. "If you used the tools from this class, you could go for 30 or 60 minutes. It blew my mind. I had a real affinity for it. I realized this was what I wanted to do for the rest of my life."
Ross spent the next several years in various comedy groups, including an improv troupe called Kick the Squirrel and a sketch comedy group called Renob Control, where he found his love for character development. He later took those characters on a six-week tour across the United States, which ultimately laid the foundation for the current Ed Forman Show.
"One of the characters I used on tour was Ed Forman," Ross said. "Forman works really well everywhere, from comedy clubs to bars—particularly at the bars. The real challenge was the people [who] lost their division, [who] were drunk. Now they wanted to work off of you, and I like that challenge. People say that I'm really good at dealing with hecklers, and I guess that's true."
Characters may form the lynchpin for Ross's brand of humor, but the guests aren't always in on the joke. Gustav, for example, pointed to the first time he learned Forman was just a character.
"I didn't even know Aaron at first," Gustav said. "The first guy I actually met was Ed Forman. Eventually, when he dropped it, I realized he was actually a really smart guy with great taste in music and pop culture."
Ross made sure to point out that he's not the only person creating the show. In addition to his work and that of his many guests, Ross works with longtime friends and colleagues Jordan Paladino and Brett Smith. He also said that they look to their network of friends for help in the crafting and refining of material.
"Every friend has to be inundated with every bit of work that we do, and that will never change," Ross said. "Without our friends, without other people that I trust with our material, the show is nothing. You can't write comedy in a black hole."
The show also features Them! The Band, a jazz-funk three-piece featuring JP Downer, Matt Johnston and Tony Lintz. The band also brings in musical guests from an array of genres and backgrounds to play at shows.
So what can you expect out of a visit to The Ed Forman Show? Both Ross and Gustav agreed: Anything goes. Gustav pointed to a particular interview during which Forman egged on a heckler to the point that the patron moved for the stage to start a fight.
Gustav laughed about the incident, reflecting that he'd thought it was all part of the show until he and Ross had to diffuse the situation live from onstage.
"Aaron's work almost has an Andy Kaufman feel to it," Gustav said. "You never know what's going to happen next, and that gives it an odd allure."
That rambunctious live atmosphere is precisely what Ross hopes to capture and convey to home viewers. Over the next year, he plans to get more cameras out into the crowd to capture the part they play in creating the show.
"Things can change at the drop of a hat," Ross said. "Someone might feel froggy and want to leap when they're drunk. Hopefully, one day people will really get to feel that, and we'll be able to translate it to television, or whatever media we're using at the time."
In addition to his work on The Ed Forman Show, Ross also helps host You Who!, a monthly children's show produced by Chris Funk (of local rock band The Decemberists) and others. On You Who!, Ross gets to play a big kid interacting with puppets and cartoons, putting on a rock and roll variety show for the kids while also working with members of popular rock bands.
"It's a true honor to be involved with the show," Ross said. "Everyone's there, doing it for kids, and it's awesome. The Portland rock scene, the people of that ilk, are just the coolest, most humble people. They've been so good to me. When I do this show, I know…it's going to be a great time."
In the future, Ross hopes Ed Forman can take the next big step to television, but in the meantime he's happy with their current trajectory. He's especially happy that he gets the chance to do it all, here in his hometown, within walking distance of every school he's attended.
"The crazy thing is, it's my hometown," Ross said. "It's awesome, and to get the opportunity to do things like a rock and roll kids' show, and do my show three times a week, I feel very blessed to have that. Portland is the greatest city on the planet, to me. It's really cool that we have that kind of lifestyle here. I've been afforded a touch of luxury."
The Ed Forman Show Every Thursday, Friday and Saturday night 10:30 p.m.–12:30 a.m. Al's Den, McMenamin's Crystal Hotel 303 SW 12th Ave. Guest and other info available at theedformanshow.com